Registration for Tournament #4 (April 6)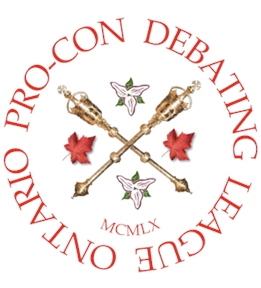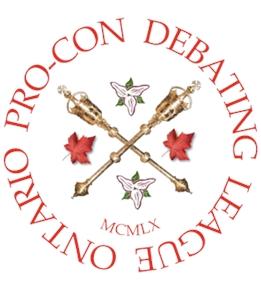 Welcome to the website of the Ontario Pro-Con Debating Forum. The Forum was founded in 1960 and has long been an excellent training ground for high school debaters from public, Catholic, and private schools in the Greater Toronto Area. Students debate in Novice, Junior, Senior, and "Friendly" divisions, allowing students of varying abilities to compete at appropriate levels. The four annual tournaments allow students to develop their debating and speaking skills over time and in a friendly and competitive league.
"Pro-Con as a league is about practice and growth. With more tournaments per year than any other league, I had opportunities to apply judges' feedback throughout the year. This helped me grow as a debater, as did Pro-Con's progressive levels of competition, from Novice to Senior. My introduction to high school debating was through Pro-Con, and the skills I developed through debating continue to benefit me now, as a student at Osgoode Hall." -- Connor Campbell, former Pro-Con debater and 2013 World Independent Schools Public Speaking and Debate Champion
TOURNAMENTS 2018-2019


Wed. Oct. 10, 2018 : Workshop at Michael Power / St. Joseph H.S.




Sat. Oct. 27, 2017: Sir John A. Macdonald Tournament at Brebeuf College School


Resolution: Be It Resolved That (B.I.R.T.) Toronto should secede from Ontario
Impromptu Resolution: B.I.R.T. Students should call teachers by their first names.



Sat. Nov. 24, 2018: Lester B. Pearson Tournament at Michael Power / St Joseph H.S.
Resolution: B.I.R.T. The reprehensible behaviour of a creator is relevant to how we should receive their creations.
Notes: 1) A "creator" must be a human being.
2) A "creation" must be an artistic product (e.g., Hamlet), or an intellectual product (e.g., Newtonian Mechanics), or a material product (e.g., a satellite or a meal).
3) While the standards for "reprehensible behaviour" vary across time and space, the spirit of the resolution presumes some ability to make objective moral judgments about a person's behaviour. (Also, "reprehensible" denotes behaviour that is egregiously immoral (e.g., assault), not merely disreputable (e.g., rudeness to a waiter).)
4) "Receive" has at least two meanings that are significant for the debate and that both affirmative and negative teams should keep in mind:
- (a) how we evaluate a product in terms of what it is (e.g., As a television show, how good is 'The Cosby Show'?);
- (b) how, if at all, we choose to interact with a product given the larger context of its creation and of its creator (e.g., Given Bill Cosby's crimes, how, if at all, should we revisit/broadcast/discuss 'The Cosby Show' and other products of his career?).
Sat. Mar 2, 2019: Agnes MacPhail Tournament at Brebeuf College School
Resolution:

B.I.R.T. Ontario should provide free post-secondary education for all students,.
Impromptu Resolution: Books with racist language should not be taught in high school.



Sat. April 6, 2019: Pierre Trudeau Tournament at Michael Power / St Joseph H.S.


Resolution: BIRT Promoting cultural diversity better enables the advancement of the common good.
Impromptu Resolution:
Sat. Apr. 27, 2019: Finals at TBA
Resolution:
Impromptu Resolution: