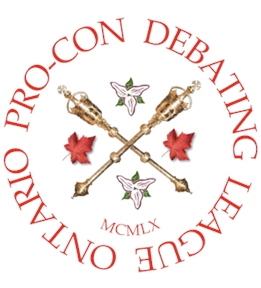 Registration for Tournament #4 (April 8, 2017)
Welcome to the website of the Ontario Pro-Con Debating Forum. The Forum was founded in 1960 and has long been an excellent training ground for high school debaters from public, Catholic, and private schools in the Greater Toronto Area. Students debate in Novice, Junior, Senior, and "Friendly" divisions, allowing students of varying abilities to compete at appropriate levels. The four annual tournaments allow students to develop their debating and speaking skills over time and in a friendly and competitive league.
Tournaments 2016-2017


Sir John A. Macdonald Tournament: October 22, 2016 @ Michael Power / St Joseph H.S.
Resolution:
BIRT The singing of national anthems before sporting events should be abolished.
Agnes MacPhail Tournament: November 26, 2016 @ Brebeuf College School
Resolution: BIRT There should be no permanent positions in the United Nations Security Council.
Resolution (impromptu): BIRT Christmas music in November is inappropriate.​
Lester Pearson Tournament: March 4, 2017 @ Michael Power / St. Joseph H.S.
Resolution:
BIRT It should be mandatory for all students in Ontario to take a senior history course.
​
Resolution (impromptu): BIRT Ivanka Trump's fashion line should be boycotted.
Pierre Trudeau Tournament: April 8, 2017 @ Brebeuf College
Resolution: BIRT All Canadians should receive a guaranteed annual income.
April (TBA), 2017 FINALS @ TBA