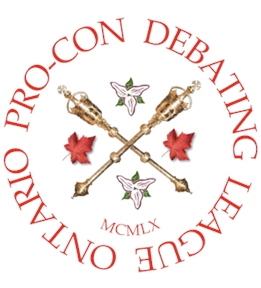 Registration for Tournament #2 (Nov 25, 2017)
Welcome to the website of the Ontario Pro-Con Debating Forum. The Forum was founded in 1960 and has long been an excellent training ground for high school debaters from public, Catholic, and private schools in the Greater Toronto Area. Students debate in Novice, Junior, Senior, and "Friendly" divisions, allowing students of varying abilities to compete at appropriate levels. The four annual tournaments allow students to develop their debating and speaking skills over time and in a friendly and competitive league.
Tournaments 2017-2018
Thurs. Oct. 12, 2017 : Workshop at MPSJ


Sat. Oct. 21, 2017: Sir John A. Macdonald Tournament at Michael Power / St. Joseph H.S.

Resolution: B.I.R.T. Student resource officers do not make Toronto students safer.


Impromptu Resolution: B.I.R.T. Instagram is over-rated.



Sat. Nov. 25, 2017: Lester B. Pearson Tournament at Brebeuf College School
Resolution: B.I.R.T. Torontonians should be allowed to raise chickens in their back yards,


Sat. Mar 3, 2018: Agnes MacPhail Tournament at Michael Power / St. Joseph H.S.

Sat. April 7, 2018: Pierre Trudeau Tournament at Brebeuf College School

Sat. Apr. 28, 2018: Finals at TBA