Registration for Tournament #4 (April 6)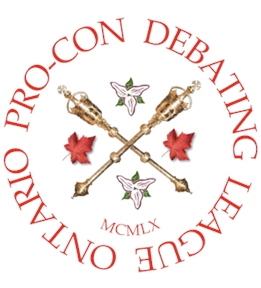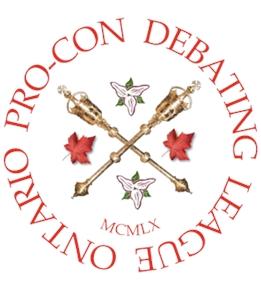 Welcome to the website of the Ontario Pro-Con Debating Forum. The Forum was founded in 1960 and has long been an excellent training ground for high school debaters from public, Catholic, and private schools in the Greater Toronto Area. Students debate in Novice, Junior, Senior, and "Friendly" divisions, allowing students of varying abilities to compete at appropriate levels. The four annual tournaments allow students to develop their debating and speaking skills over time and in a friendly and competitive league.
"Pro-Con as a league is about practice and growth. With more tournaments per year than any other league, I had opportunities to apply judges' feedback throughout the year. This helped me grow as a debater, as did Pro-Con's progressive levels of competition, from Novice to Senior. My introduction to high school debating was through Pro-Con, and the skills I developed through debating continue to benefit me now, as a student at Osgoode Hall." -- Connor Campbell, former Pro-Con debater and 2013 World Independent Schools Public Speaking and Debate Champion
TOURNAMENTS 2019-2020
Thur. Oct. 10, 2019 Workshop at James Cardinal McGuigan Catholic High Schools
Sat. Oct. 26, 2019 Michael Power / St. Joseph High School
Sat. Nov. 23, 2019 Brebeuf College School
Wed. Dec. 4, 2019 TCDSB High School Debate Championship at Michael Power / St. Joseph H.S.
Sat. Feb. 29, 2020 Michael Power / St. Joseph High School
Sat. Mar. 28, 2020 Brebeuf College School
Sat. Apr. 25, 2020 Finals at TBA