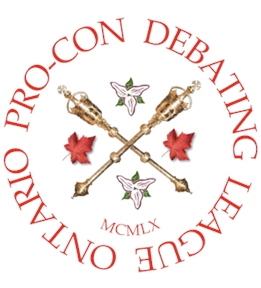 The Pro-Con Debating League was founded in 1960 by Father Leo Burns C.S.B. and Mr. Joseph Younder. Basilian schools in Toronto and the upper New York State area began holding debate competitions in the cross-examination format. Gradually, other Toronto schools were invited to participate and the forum ceased to be a Basilian enterprise.
Some of the current members who would be considered founding members of the league include: St. Michael's College School, Michael Power / St. Joseph's High School, Brebeuf College School, Loretto Abbey, St. Joseph's Morrow Park, and De La Salle College.
The league continued to grow beyond Toronto and at one point had various divisions in the province.
Due to personnel difficulties and a decline in membership in the late 1990s, the league did not operate for a few years in the early 2000s. It was revived with enthusiasm in 2005.
Some well-known Pro-Con alumni are:
Marc Kielburger, human rights activist and co-founder of Me to We and Free the Children
Father Joseph Redican C.S.B., President of St. Michael's College School.